Portrait thought to be of John Lawson, 1700, artist unknown
I write this on the eve of St Patrick's Day to be first read on March 19 while I trust visions of all things green and lucky are still dancing in your head (and perhaps a bit of maniacal step dancing by some leaping leprechauns, as well!) At any rate, for some unknown and mysterious reason, my thoughts have turned to that most unlucky of eighteenth century fellows, John Lawson. Oh, poor John. Truly.
Title Page of John Lawson's Book
Last week's blog post featured John Lawson's glowing account of the qualities of women he discovered on his journey throughout the Carolinas in the first decade of the 1700s, published in 1709 as A New Voyage to Carolina; Containing the Exact Description and Natural History of That Country: Together with the Present State Thereof. And a Journal of a Thousand Miles, Travel'd Thro' Several Nations of Indians. Giving a Particular Account of Their Customs, Manners, &c
See: https://archive.org/details/newvoyagetocarol00laws to view a copy of his book.
Before delving into the awful manner of Mr.
Carolina Wildlife from John Lawson's Book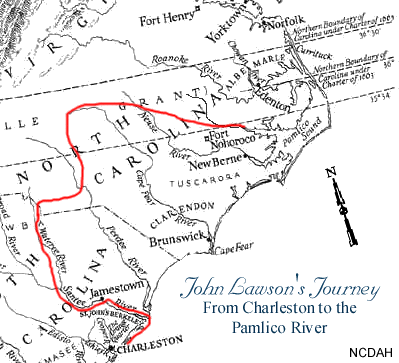 Map of John Lawson's Journey from
Lawson's demise, let me tell you a little of this remarkable man's accomplishments. In addition to exploring, what was then, a land of rough and tumble people, a land filled not only with the natural beauty and grace of its gentler inhabitants, but also with poisonous snakes, savage biting insects, and an air of lawlessness we usually attribute to the Wild West frontier days of America, John Lawson was responsible for the layout and establishment of North Carolina's oldest town, Bath, as well as for that of the town of New Bern, North Carolina. John Lawson traveled on foot and by canoe as he witnessed and recorded the amazing diversity of flora and fauna as well as the people, both native and immigrant. Note-
-I use the term, "Indian," here as that is how Lawson described them as opposed to today's preferred term, "Native American."--
On December 28, 1700, he, along with a crew of five Englishmen, three Indian men and one Indian woman, set out on a fifty-nine day journey snaking along rivers and trading paths beginning at what is now Charleston, South Carolina, moving in a crescent out to the piedmont region of both South and North Carolina and ending near present day Bath, on the coastal plain. Although probably about five hundred miles as flies the proverbial crow, his trip took such a circuitous route, his claim of a thousand miles is not unwarranted. His descriptions of the many Indian tribes he encountered (often a different one for each river) were, though sometimes colored with his bemusement, most often respectful, sometimes comparing them favorably to his fellow countrymen (and women.) To quote Lawson, with modern spelling:
Amongst (Indian) women, it seems impossible to find a Scold: if they are provoked, or affronted, by their Husbands, or some other, they resent the Indignity offered them in silent tears, or by refusing their Meat. Would some of our European Daughters of Thunder set these Indians for a pattern, there might be more quiet Families found amongst them, occasioned by that unruly Member, the Tongue.
Lawson did not limit his praise to the fairer sex, however, and although he referred to the native people as savages, he often remarked they were less savage in some ways than their Old World counterparts. His praise of the native peoples is all the more ironic in that his death was at the hands of the Tuscarora, whom he acknowledged with sympathy and respect in his book.
Tuscarora Warrior, artist unknown
in 1711, on the verge of war against the colonists, some of the Tuscarora looked upon Lawson as an agent representing people who were the source of terrible injustice and mistreatment of the natives. Not only had Indian lands been confiscated but many Indian women and children had been taken as slaves. Lawson, for all his close interaction with the Indians, appeared unaware of their belief that he was actually working against them. In mid-September, during a time simmering with hostility, John Lawson placed himself in the heart of Indian country as he took an expedition trip along the Neuse River to find a quicker route through North Carolina to the Virginia border. He was captured by Tuscarora warriors and subsequently killed.
Baron Christoph Von Graffenried and his slave
who
accompanied Lawson on that fateful trip were eventually released by their captors and the baron's own illustration of the event is included in today's post. For those with a weak stomach or prone to nightmares, I seriously suggest you stop reading the remainder of this post. I am not being humorous and I certainly want the Reader to understand the grave and graphic nature of the description passed down to us from centuries past. Although it may have been embellished for reasons of propaganda, the methods described match those Lawson, himself, recorded during his time among the Tuscarora. So, here goes:
The Death of John Lawson, 1711, by Baron Christoph Von Graffenried
Splinters made from pitch pine were stuck into Lawson's skin covering his entire body. The horrible pain this caused was then increased a thousand fold when the splinters were set ablaze and the unfortunate man was burned alive. To quote

Marjorie Hudson in her article, "

Among the Tuscarora: The strange and mysterious death of John Lawson, gentleman, explorer, and writer," reprinted

at

http://www.learnnc.org/lp/pages/1645 from

its original publication in North Carolina Literary Review, Vol. 1, No. 1, Summer 1992:
His bleeding skin numbed by pitch pine, he begins to feel the heat on the skin of his legs and feet, the rush upward, the death dance now frenzied in his limbs, the last sight of this world framed in fire, and, finally, the soul escaping into a heavenly place like Eden, like the New World when it was still young, belonging to itself alone, a land that fulfills all expectations of balance, of beauty, of perfect enmity.
This terrible event preceded a war between the Tuscarora and the colonists which after two dreadful years ended with all of that tribe either killed, taken as slaves, or fled northward out of the Carolinas.
Have a good week, dear Reader. Thanks for stopping by...Y'all come back now! (And may we learn from the past.)
Kate