From the tomato harvest of the author's garden (photo by the author)
Ah, summer, and the tomatoes and cucumbers are running rampant in our home garden. After we've sated ourselves with fresh tomato sandwiches, tomato pies, cucumber salads and sandwiches, there are still more seasonal treasures ripening and in danger of going to waste. What to do! Time to pull out the canner and the freezer bags and get busy, but what did our 18th century counterparts do with such an embarrassment of riches? To find out, I searched and ran across an amazing resource: the first cookbook ever published in America that wasn't just a copy of European recipes (or, receipts, as they were known at the time.)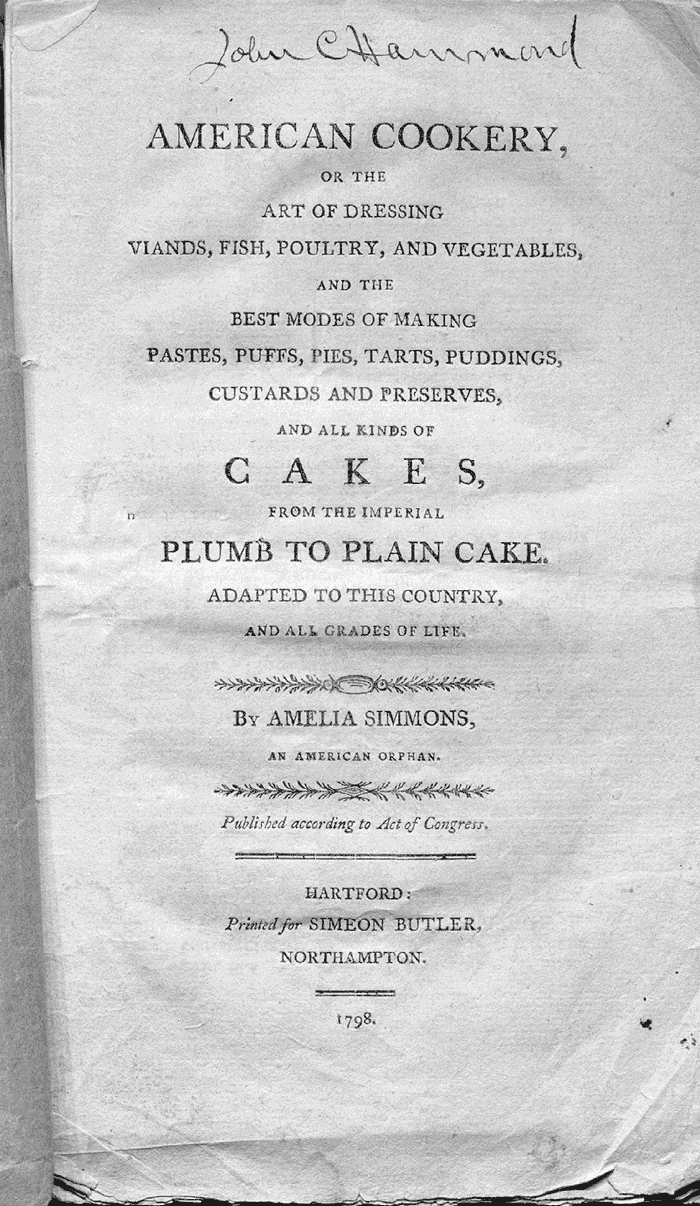 Title Page of American Cookery
Amelia Simmons, who added the title "An American Orphan" to her author name, wrote her book with the express purpose of using ingredients which could be procured on American soil, either through direct propagation or easy importation. Printed in Hartford, Connecticut in 1793, her cookbook bore the usual eighteenth century penchant for exceedingly long subtitles. In her case, the subtitle handily served the purpose of a table of contents as well:
ART OF DRESSING

VIANDS, FISH, POULTRY, AND VEGETABLES,

AND THE

BEST MODES OF MAKING

PASTES, PUFFS, PIES, TARTS, PUDDINGS,

CUSTARDS AND PRESERVES,

AND ALL KINDS OF

C A K E S,

FROM THE IMPERIAL

PLUMB TO PLAIN CAKE.
AND ALL GRADES OF LIFE.
Reading Miss Simmons's recipes and anecdotal notes is a delight. Her proposal of putting naughty, and otherwise orchard-marauding, boys in charge of planting and caring for fruit trees is priceless (but that's for another blog post.)
The first cucumber of the summer in the author's garden (photo by the author)
I've printed, below, some of her directions for preserving summer's bounty, maintaining most of its original spellings. As you will see, her directions for preserving gooseberries is very similar to our present day canning methods.The last recipe is for something called Diet Bread, not related to food preservation but I just had to include it today. Obviously, the eighteenth century's use of the word diet was far different than its popular use today but, when you note how long you're supposed to beat the sugar and eggs, it might not be a bad way to lose weight after all!
To Pickle Cucumbers:
Let your

cucumbers

be small, fresh gathered, and free from spots; then make a

pickle

of

salt and water,

strong enough to bear an egg; boil the pickle

and skim it well, and then pour it upon your

cucumbers,

and stive them down for twenty four hours; then strain them out into a cullender, and dry them well with a cloth, and take the best

white wine
vinegar,
with
cloves,
sliced

mace,

nutmeg,

white pepper corns,

long pepper,

and races of

ginger,

(as much as you please) boil them up together, and then clap the

cucumbers

in, with a few

vine leaves,

and a little

salt,

and as soon as they begin to turn their colour, put them into jars, stive them down close, and when cold, tie on a bladder and leather.
Naked peaches (photo by the author)
To Preserve Peaches:
Put your

peaches

in

boiling water,

just give them a scald, but don't let them boil, take them out, and put them in

cold water,

then dry them in a sieve, and put them in long wide mouthed bottles: to half a dozen peaches

take a quarter pound of

sugar,
clarify it, pour it over your
peaches,
and fill the bottles with
brandy,
stop them close, and keep them in a close place.
To Dry Peaches:
Take the fairest and ripest
peaches,
pare them into
fair water;
take their weight in
double refined sugar;
of one half make a very thin sirup; then put in your
peaches,
boiling them till they look clear, then split and stone them, boil them till they are very tender, lay them a draining, take the other half of the
sugar,
and boil it almost to a candy; then put in your
peaches,
and let them lie all night, then lay them on a glass, and set them in a stove, till they are dry, if they are sugared too much, wipe them with a wet cloth a little; let the first sirup be very thin, a quart of water
to a pound of
sugar.
Gather them when dry, full grown, and not ripe; pick them one by one, put them into glass bottles that are very clean and dry, and cork them close with new corks; then put a kettle of
water
on the fire, and put in the bottles with care; wet not the corks, but let the
water
come up to the necks; make a gentle fire till they are a little coddled and turn white; do not take them up till cold, then pitch the corks all over, or wax them close and thick; then set them in a cool dry cellar.
The American Citron:
Take the
rind of a large watermelon
not too ripe, cut it into small pieces, take two pound of
loaf sugar,
one pint of
water,
put it all into a kettle, let it boil gently for four hours, then put it into pots for use.
Diet Bread:
One pound
sugar,
9
eggs,
beat for an hour, add to 14 ounces
flour, spoonful
rose water,
one do.
cinnamon
or
coriander,
bake quick.
To see more of this gem, go to:
http://digital.lib.msu.edu/projects/cookbooks/books/americancookery/amer.html
Have a good week, dear Reader. Thanks for stopping by...Y'all come back now!